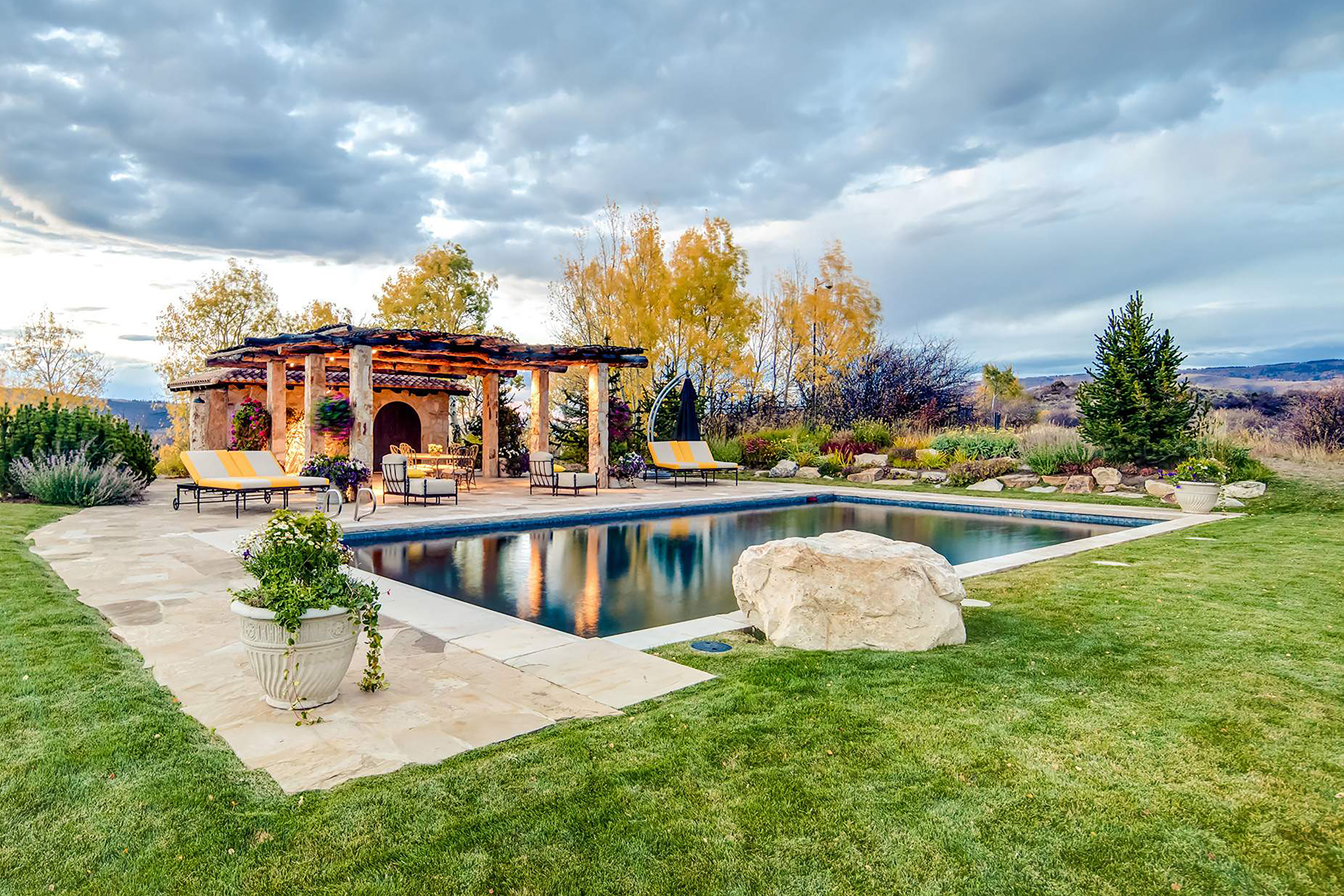 Luxury Airbnb Rentals
Airbnb Luxe rentals by InvitedHome
9/27/2019
Luxurious Airbnb Rentals in Colorado
The InvitedHome Airbnb Luxe Collection
In June 2019, Airbnb completed and launched a project it's been working on since it purchased Luxury Retreats in early 2017: Airbnb Luxe. With this new offering, guests can browse through only the world's most luxurious Airbnb rentals, from private homes on a secluded Bali island to castles in the French countryside. So why are we so excited about this?

Because Airbnb selected eight of our homes in Colorado and Utah to be a part of this collection. Now, our luxury mountain rentals are listed alongside some of the world's most beautiful homes. These homes were chosen after going through a strict evaluation process, including an in-person inspection in which more than 300 criteria are assessed. Inspection points include beautiful design standards, materials used, whether the kitchen amenities are fit for a professional chef, the bedroom-to-bathroom ratio, and more. To learn more about Airbnb Luxe, luxury vacation rentals, and the industry as a whole, scroll down.

Below are the eight luxury rentals that are a part of Airbnb Luxe, but can be reserved directly through our site here at InvitedHome. As our top offerings, many of these are also included on our list of homes that may include private butler service if requested, as well.
Airbnb Luxe Listing by InvitedHome
Villa Mendia
Telluride, Colorado
Villa Mendia offers guests exactly what Airbnb Telluride Luxe is all about: Privacy, luxury, space, beauty, and an unforgettable experience. Located about 15 minutes outside of historic downtown Telluride and 10 minutes from the skiing at Mountain Village, this Aldasoro Ranch home was inspired by the traditional Basque mountain designs of Northern Spain. The indoor sauna and outdoor hot tub are just the beginning of this home's high-end amenities, and the large plot of land that surrounds it affords guests both privacy and astounding views.
Average price per night: $699-$2,399.

Click here for availability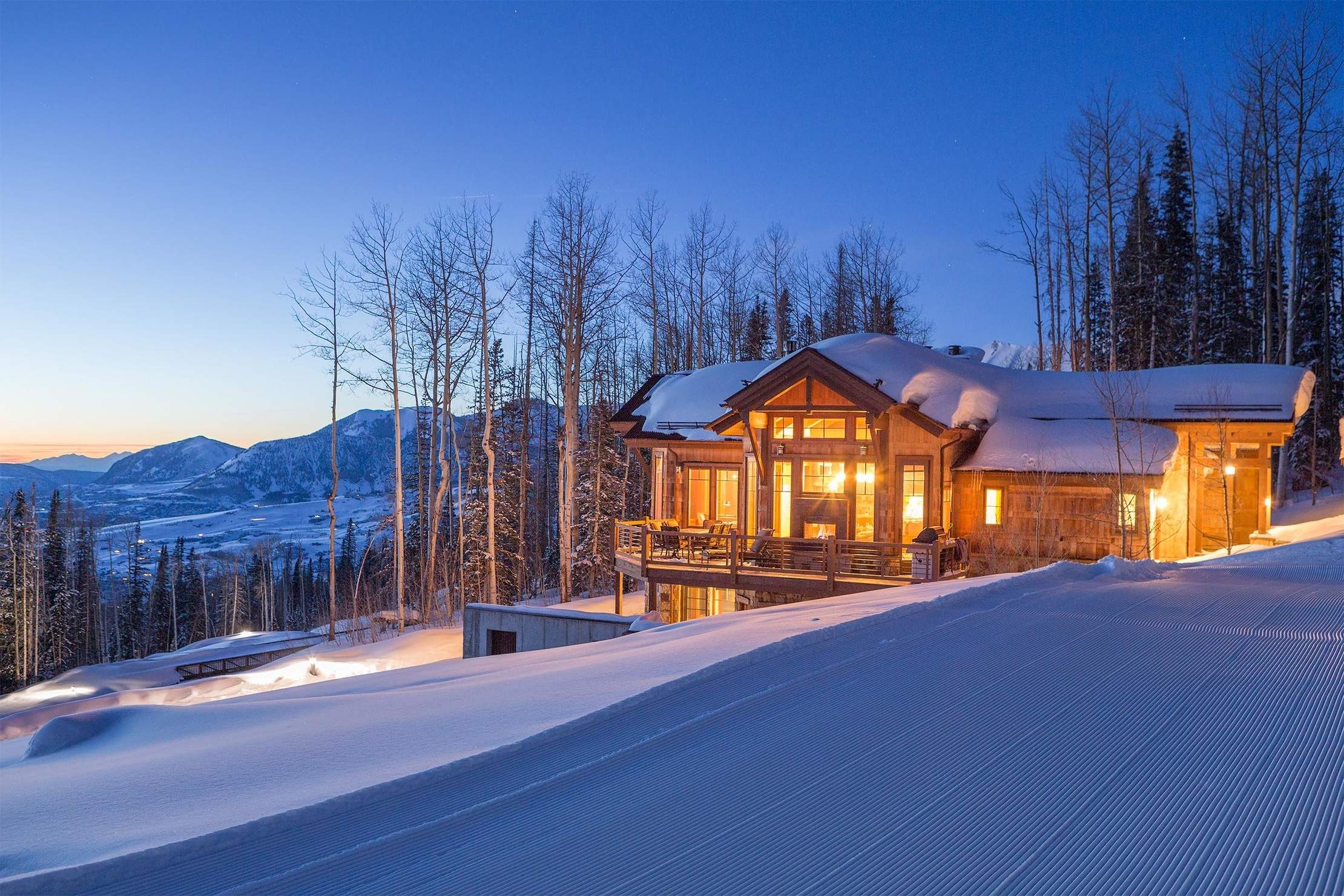 Cabin on the Ridge
Telluride, Colorado
Cabin on the Ridge is one of the most unique Airbnbs in Telluride, Colorado. It may have "cabin" in its name, but this Airbnb in Telluride is in no way rustic. Perched just a short walk from the San Sophia gondola station, this home sits at about 10,500 feet—one of the highest easily-accessible areas in the region. In the winter, you can only access it by gondola or snowcat, so you know you'll have total privacy. And as an added bonus for guests, the home comes with an oxygen system that brings the 02 levels inside the home up to the equivalent of about 6,000 feet.
Average price per night: $1,149-$3,299

Click here for availability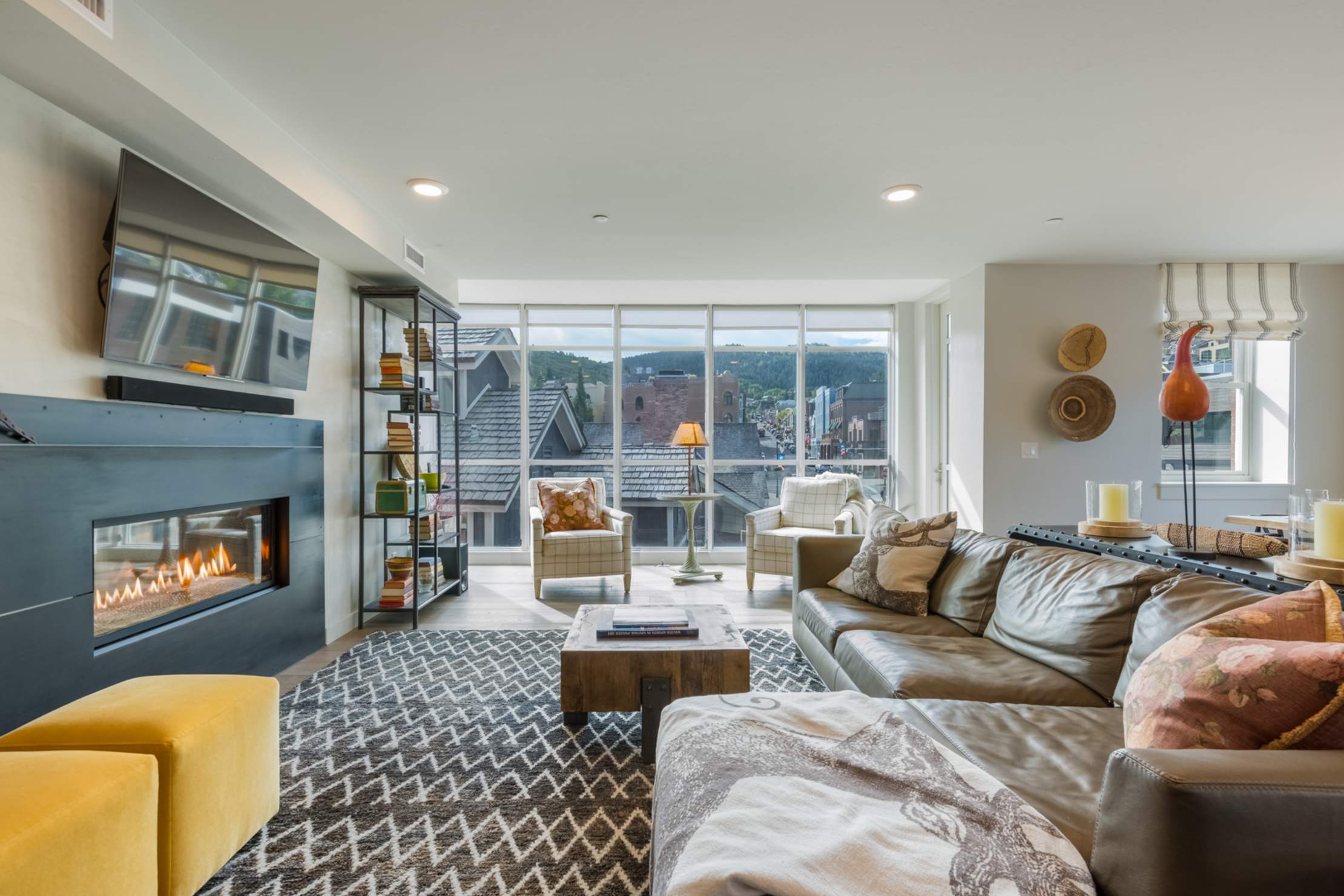 Azure Vista
Park City, Utah
Azure Vista is for the crowd that wants to explore the world-famous Park City skiing and outdoor adventures by day, and return to exquisite luxury in the center of downtown by night. Located right on Main Street, this modern home has a balcony that overlooks the entire street. Settle into the outdoor seating, or slide into the hot tub that's perched on the balcony to watch the action of town unfold below. At Azure Vista, you'll live the lofted life in the heart of it all.
From $500 to $3,624 per night.

Click here to check availability.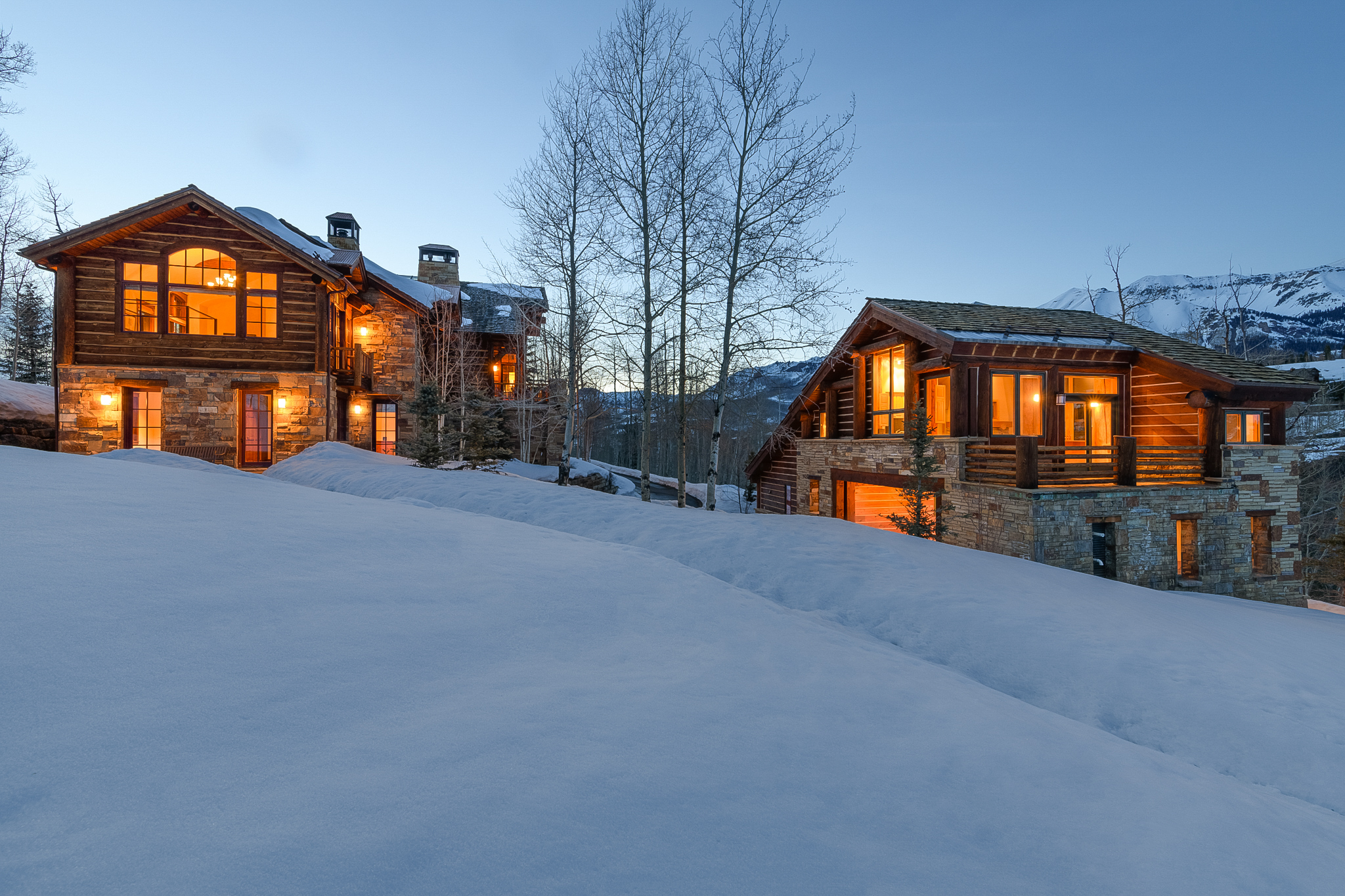 Russell Estate
Telluride, Colorado
Complete with a main home and a guest house, Russell Estate is unrivaled in this area of Mountain Village. Together, the two homes spread out across more than 11,000 square feet and can sleep up to 20 guests in eight bedrooms. It's also extremely private, located at the end of a road and directly on the lower Galloping Goose run for easy ski-in, ski-out access. The hot tub is on a patio next to the slopes and there's a mini bar in a room just inside, so you can literally be skiing one minute, and soaking in the tub with a drink the next.
Average price per night: $2,899 to $11,999

Click here for availability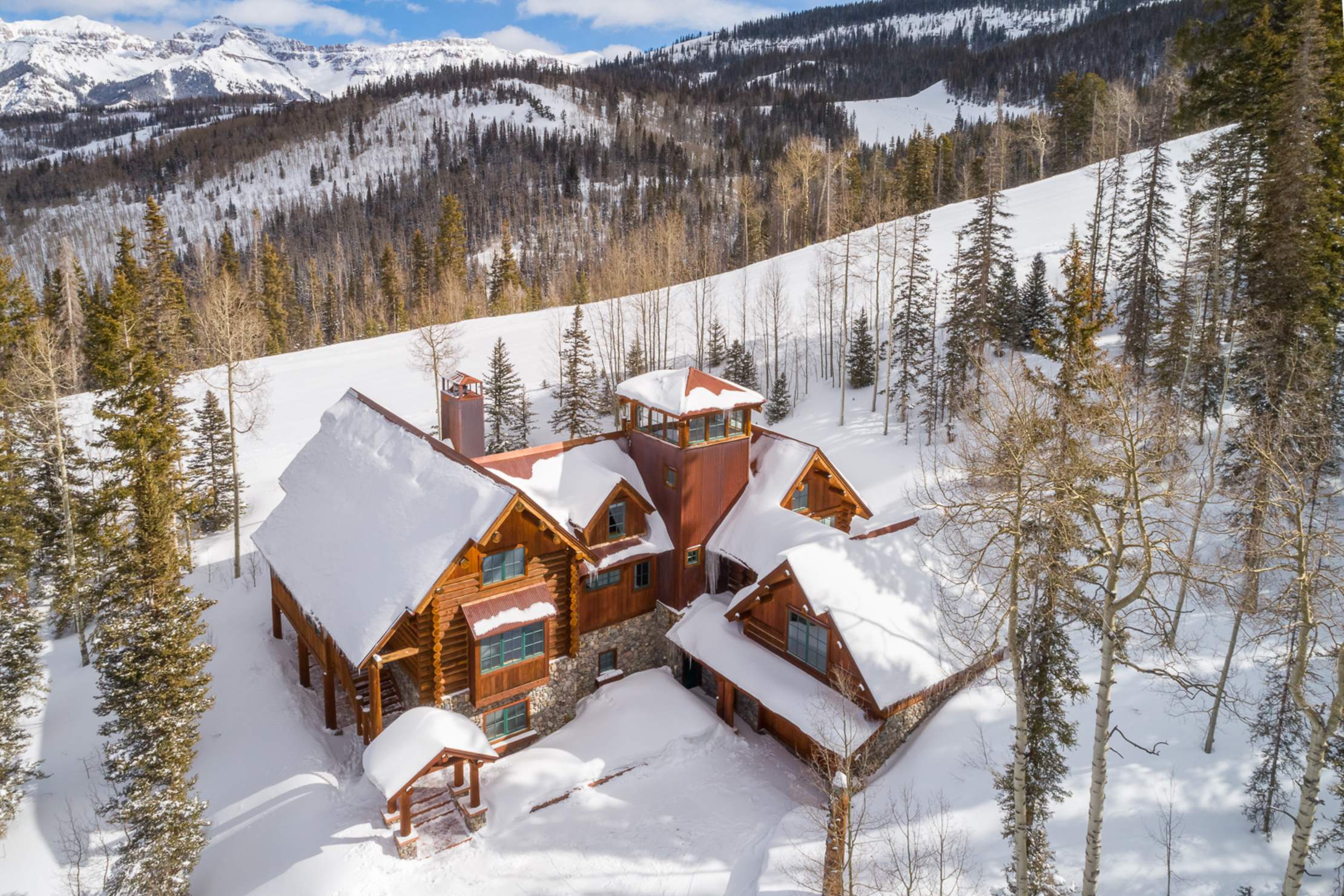 Winterfell
Telluride, Colorado
Winterfell is as iconic as it gets: A luxury ski-in, ski-out log cabin with an indoor and outdoor stone fireplace, private hot tub, breathtaking views out the floor-to-ceiling windows, and ample outdoor living areas. And if you still weren't sure you were in a traditional (yet extremely refined) Colorado log cabin, the antler chandelier and exposed wood interior are there to remind you. With five bedrooms and an additional sleeping area, this home can accommodate up to 14 guests.
Average price per night: $999 to $2,999

Click here for availability
Il Podere
Cordillera, Colorado
Cordillera is a beautiful enclave southwest of Beaver Creek, Colorado, offering mesmerizing mountain views and unending mountain activities, and Il Podere is among the finest homes in the area. Set on 230 acres of pristine mountain landscape, the home is modeled after traditional Italian villas, and features some of the best luxury amenities in our portfolio: A mountaintop infinity hot tub and pool, an indoor basketball court, a movie theater, and verandas, patios, and balconies that make you feel like you've traveled to Tuscany without ever leaving Colorado.
Average price per night: $2,499 to $20,999.

Click here for availability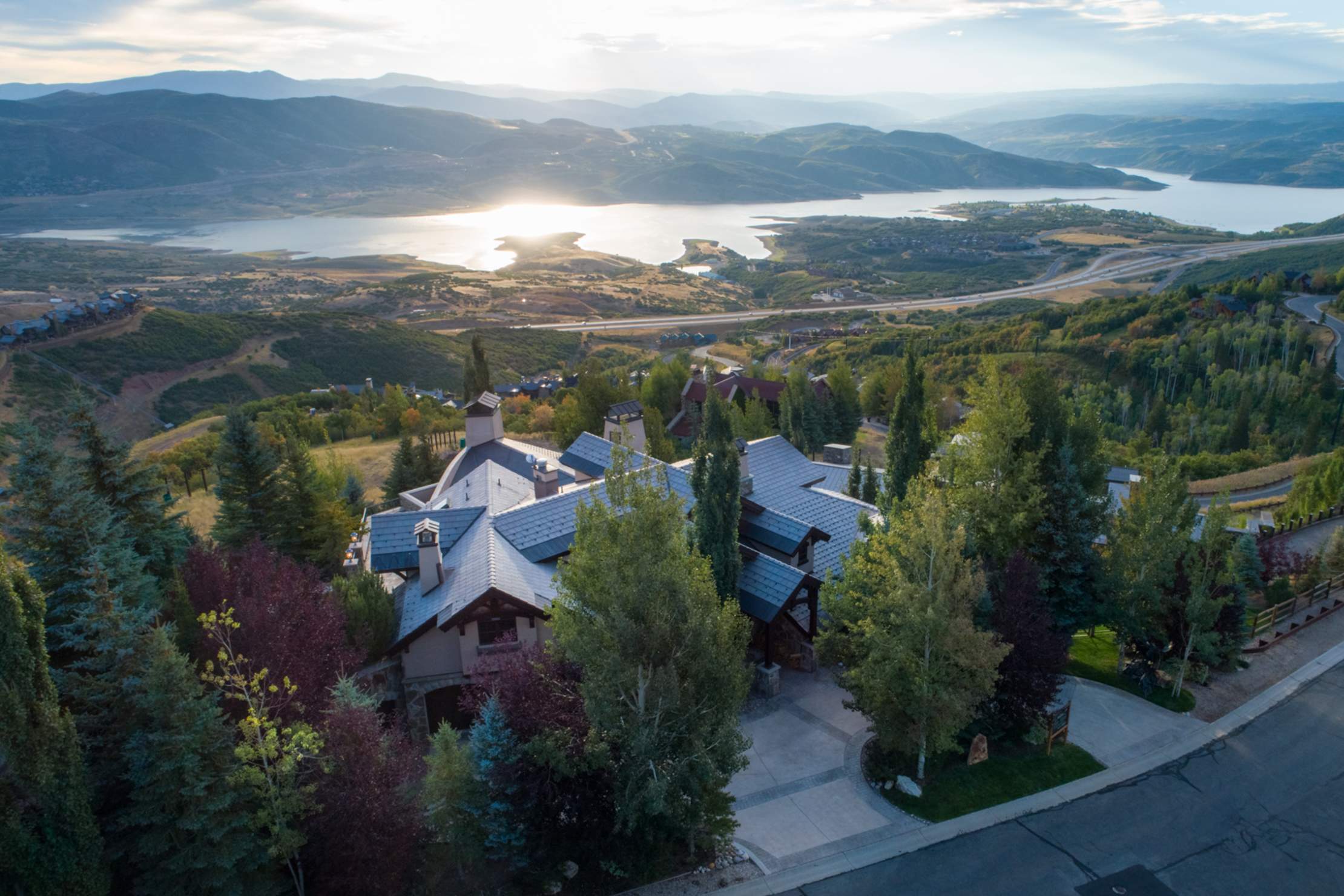 Casi Cielo
Deer Valley, Utah
Casi Cielo is more than a Park City ski home. It's a ski-in, ski-out mountainside retreat with a grand design, sweeping views of the entire Jordannelle Valley, and luxury amenities in every room. At 11,078 square feet, it's a veritable mountain manor, featuring a private hot tub on a deck with a view of the reservoir, a billiards room, an in-home movie theater, an outdoor stone fireplace on a covered patio, and more. Winter or summer, this is an extremely unique way to experience Park City.
Average price per night: $1,599 to $13,499

Click here for availability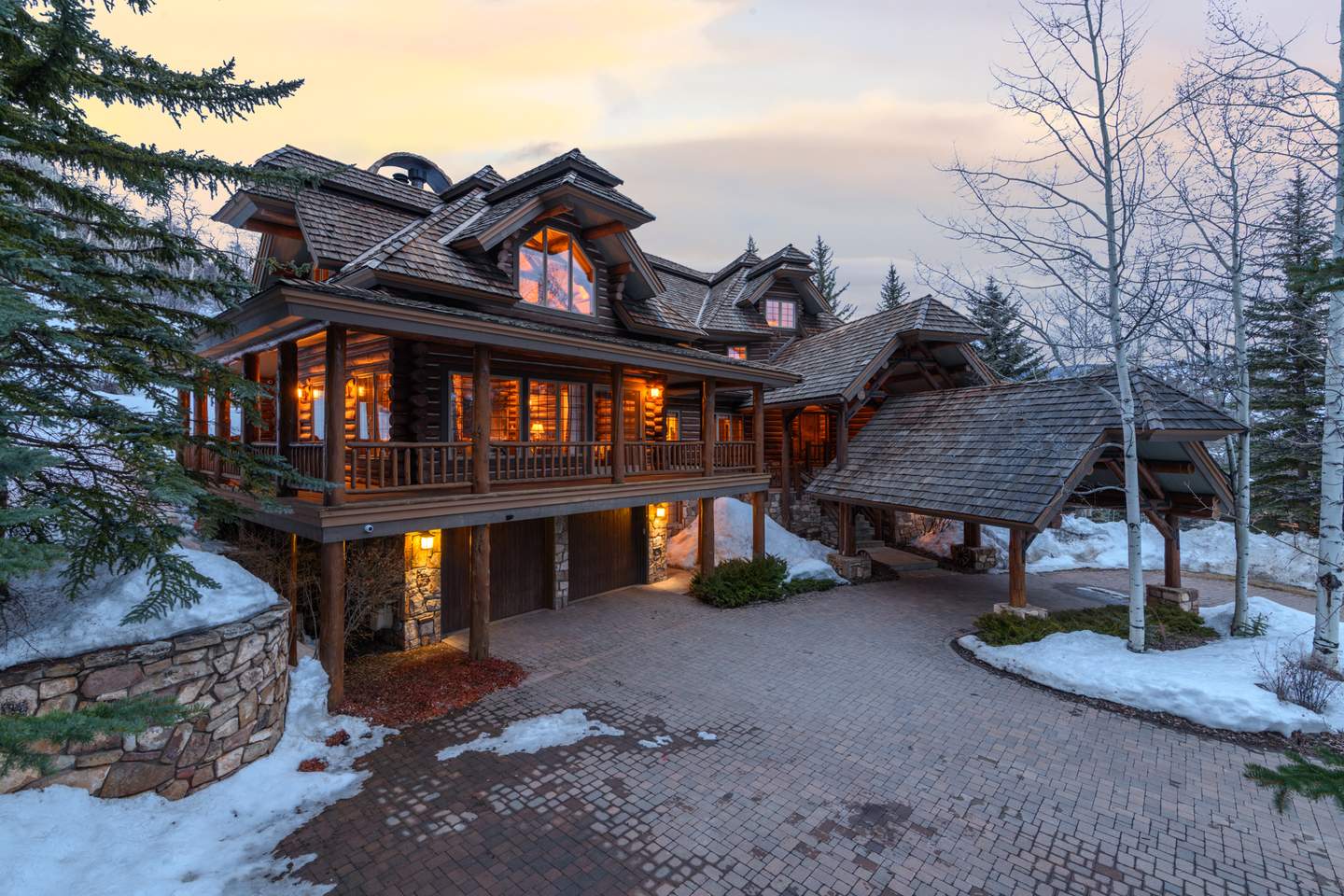 Holden Lodge
Beaver Creek, CO
Holden Lodge is located in a quiet area of the prestigious Beaver Creek community, just a short free shuttle ride away from one of the world's most renowned ski resorts. The home itself is a perfect example of Colorado luxury log cabins done right, with a cozy, lodge-style atmosphere with a high-end finish. With five bedrooms, it's great for large groups who want an authentic Colorado ski experience and all the luxury amenities they're used to.
From $599 to $7,998 per night.

Click here for availability and booking information.

Luxury Airbnb FAQ
Luxury vacation rentals are becoming more popular than ever before.
In 2018, there was a 60% increase in bookings for Airbnb listings worth at least $1,000 per night. And while that's a startling number, it's just one of many statistics that show the lifestyle of homesharing⁠—once reserved for couch surfers and budget travelers⁠—is just as at home in the luxury world. Here are a few questions many travelers and homeowners alike have regarding luxury vacation rentals and Airbnb Luxe:

How is Airbnb Luxe different than Airbnb?
Airbnb was founded in 2008, and at its core is still the same company: a broker that connects homeowners hoping to rent their home out for short-term stays to travelers looking for accommodation. It has a remarkable record of safety and satisfaction, and guests and hosts alike must be verified by Airbnb. In recent years, the company has added new offerings, such as Experiences, which help travelers find and book local guides, tours, and more. Airbnb Luxe takes this standardization and evaluation to a new level, as discussed above. When you book a home through Airbnb Luxe (or on the InvitedHome website), you know it's been inspected to provide an unforgettable luxury travel experience.

What is Airbnb Verified Plus?
In 2018, Airbnb began its foray into offering higher-tier accommodation in the form of Airbnb Verified Plus. In its most basic definition, Airbnb Plus offers amenities and quality you'd expect from any hotel. These homes are visited in-person to inspect comfort, consistency, and design, and include an inspection of about 100 criteria. Hosts must also maintain a rating of 4.8 or higher to be included in this collection. Think of Airbnb Plus as a middle ground between standard Airbnb and Airbnb Luxe.

So what is Beyond by Airbnb?
When Airbnb acquired Luxury Retreats in 2017, the collection of stellar homes it immediately made available on the site was called Beyond by Airbnb. Now that Airbnb Luxe has rolled out, the homes that were apart of Beyond (as well as some new additions, such as ours) are now a part of Luxe. Airbnb scrapped the Beyond brand to preserve the brand Luxury Retreats had done so well to create. So your options are Airbnb, Airbnb Verified Plus, and Airbnb Luxe.

Did Airbnb buy Luxury Retreats?
Yes. In 2017, Airbnb bought Luxury Retreats for around $300M in cash and stock, beating out global travel industry giants Expedia (owners of Travelocity, Orbitz, hotels.com, Trivago, CheapTickets, and eBookers) and Accor Hotels (owners of several hotel brands including Fairmont, Sofitel, and onefinestay).

What is an alternative to Airbnb?
Very good question. You can look through 13 Sites Like Airbnb here, or you can simply book luxury vacation rentals in Colorado, Utah, and California right here through InvitedHome. While only some of our homes are listed on Airbnb Luxe, we have more than 100 homes throughout these states that receive the same inspection process by our own team, and when you book direct, you won't pay any fees to Airbnb.
Luxury Vacation Rentals are the New Norm for Affluent Travelers
How we ended up here, in a place where wealthy travelers accustomed to the Ritz-Carlton, Auberge, and St. Regis are comfortable staying in strangers' homes, is a long and winding road. VRBO had been offering a way for homeowners to rent out their place since 1995, and then Airbnb came along in 2008 and brought a Silicon Valley allure to the business. However, what was still lacking was consistency, trust, and accountability. By 2010, local vacation rental management companies started to understand this, and were the first to offer property and vacation rental management services to extremely luxurious homes. Still, a problem remained: Finding guests who were as comfortable with the sharing economy as the homeowners were, or had the means to rent homes priced at $1,000 per night and higher.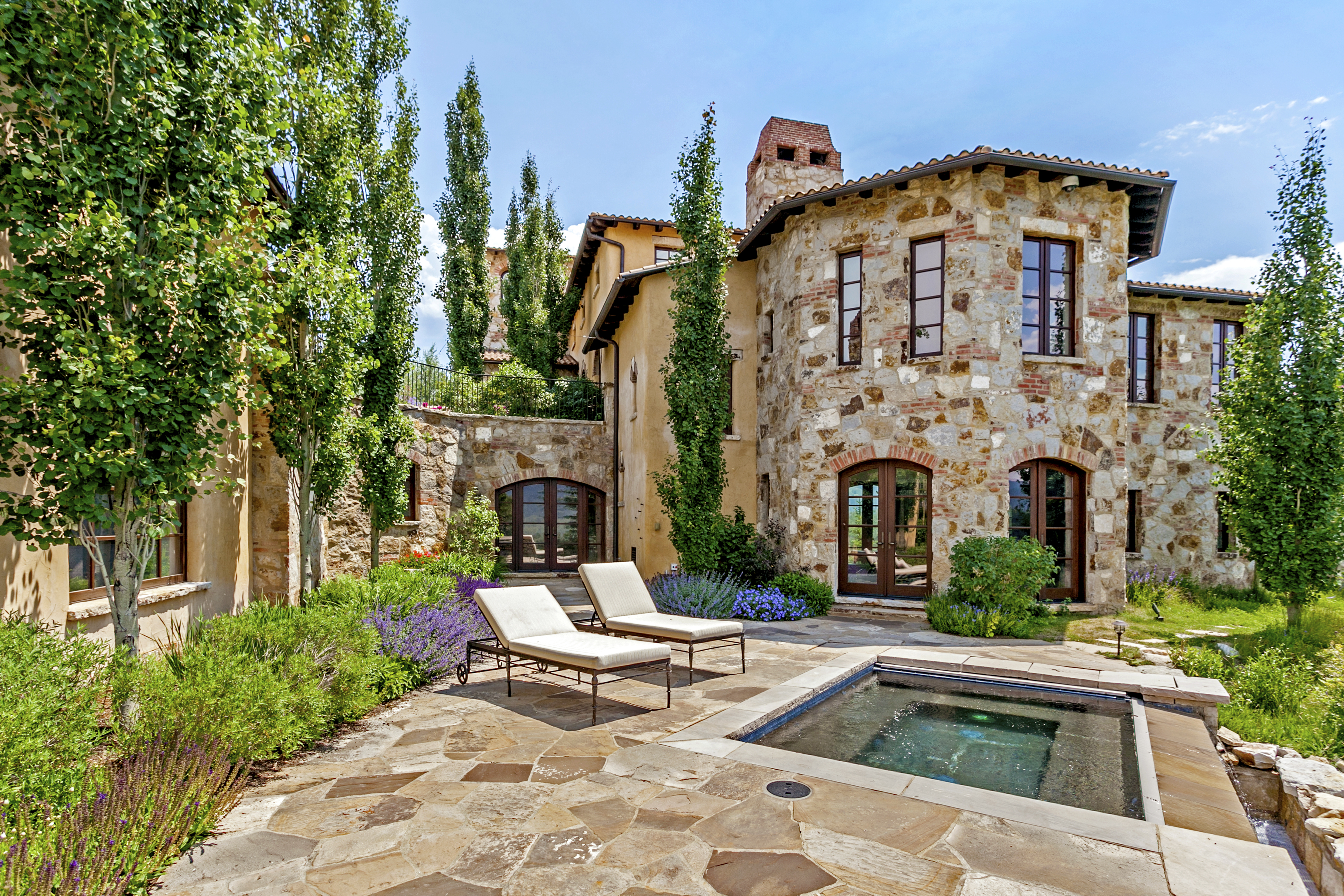 In our experience, it was a positive feedback loop. We tended to work with homeowners who had already been guests at luxury vacation rentals and wanted to buy an additional home to rent out themselves. This led to a higher luxury home inventory, more availability, a growing network of verified guests, word-of-mouth reviews, and so forth.

Fast forward to 2019, and Airbnb and Mariott (with its recent Homes and Villas venture) are hoping to use their size and prestige to take over the luxury vacation rental space, which has until now been dominated by smaller, more local operations. All of this is generating more acceptance of and trust in the luxury vacation rental space.
Trustworthy Vacation Rental Sites
Luxurious Airbnbs can be the perfect way for large groups to get together in areas and homes they may otherwise never experience. But how do you trust the sites offering these high-end rentals? A good place to start is the recognized brands that have the inventory, such as Airbnb Luxe, Luxury Retreats, onefinestay, and others. But remember, when you're booking through a site like this, rather than directly with an owner or property manager, you'll pay the marked up amount.

If you find a home on an owner or property manager's website, do your due diligence. Call them, look through reviews on their site, check on external reviews, and ask around. If you speak with someone from the company, ask them about their Net Promotor Score, an internationally recognized benchmarking system of customer loyalty. This should give a good indication of their overall service. For example, InvitedHome has an NPS of around 60-70 throughout the year. Above 50 is typically seen as an exceptional score.
You can't return a bad vacation, so it's critical to get it right the first time. Here are a few more articles that will help you find a trustworthy vacation rental site:

What are the Best Vacation Rental Listing Sites?
13 Sites Like Airbnb
VRBO vs Airbnb
Airbnb Luxe and InvitedHome
As our portfolio of luxury homes increases, we'll look to have more of them included on the Airbnb Luxe platform. We consider it a distinction and an honor to be a part of this collection, and believe it showcases the level of care we put into serving our homes, homeowners, and guests.
Loading...