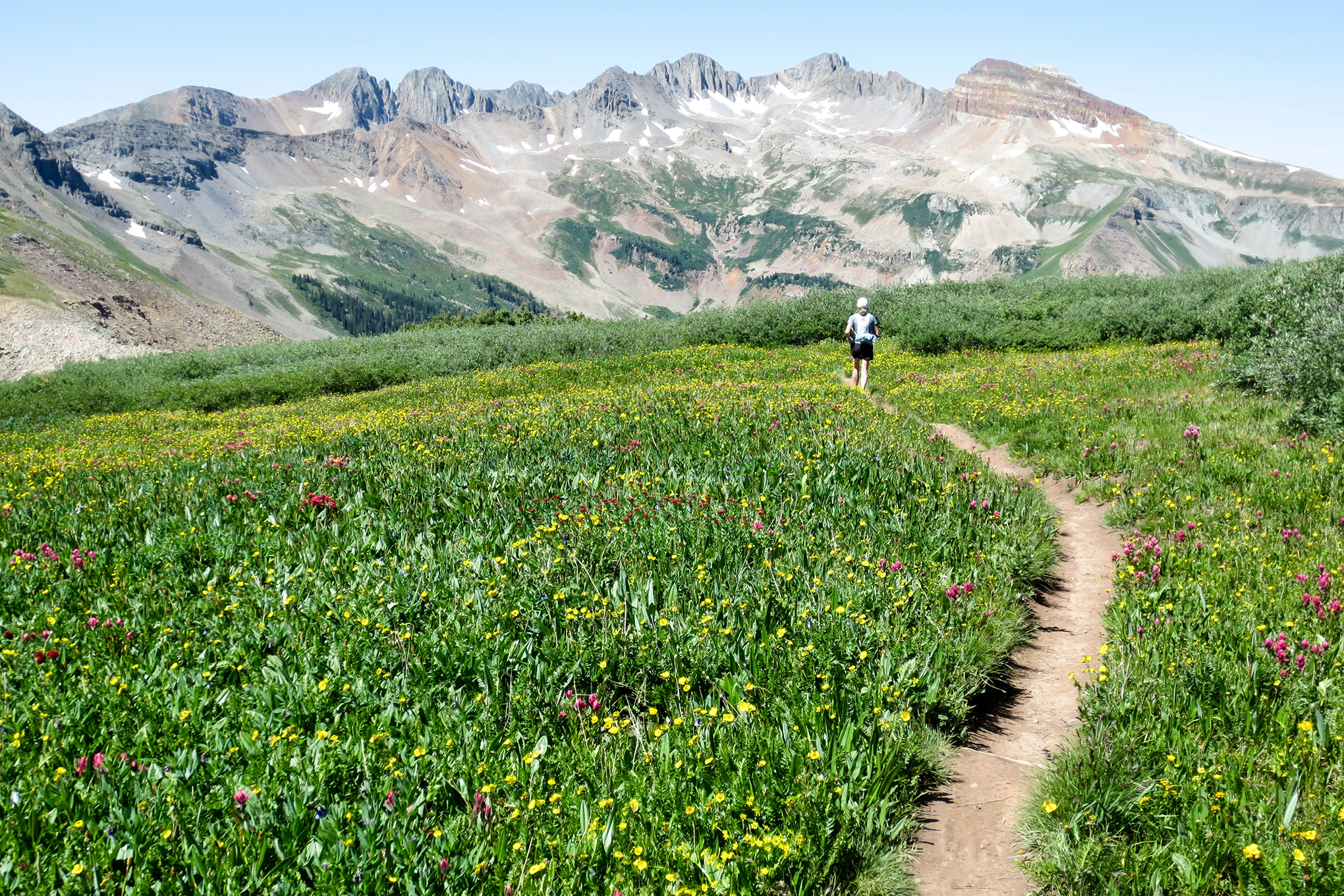 The Ultimate Guide to Telluride, Colorado Hiking
The 10 best hikes in Telluride for beginners, intermediates, and experts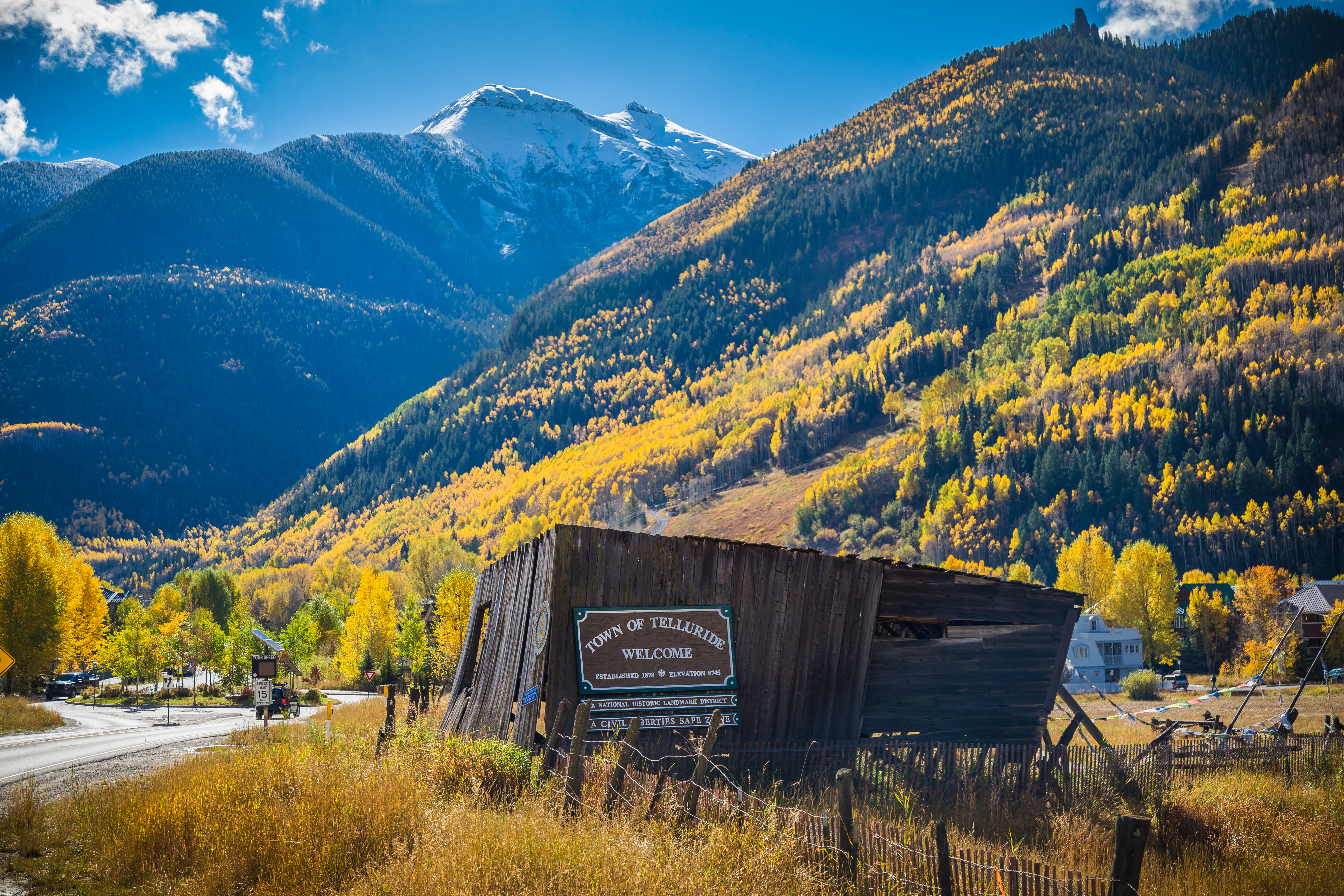 Telluride Hiking Trails
From simple strolls to the legendary Via Ferrata, there are plenty of hikes around Telluride
When someone mentions beautiful Telluride, the first thing that comes to mind is often the mountain's brilliantly unique skiing trails. But in fact in the warmer months, hiking in Telluride is almost as popular as skiing in the winter. Once the snow melts, a whole new world opens up for wilderness lovers of all hiking levels. And you won't find truer terrain in which to explore all of Mother Nature's hidden gems, no matter your age, size or fitness level. Just head for these hills and find the best Telluride hikes for you. If hiking's not what you're looking for, take a look at our list of things to do in Telluride, and you're guaranteed to find something that suits you.

UPDATE: Now that United Airlines is operating commercial jet service into Telluride for the first time ever, it's never been easier to get to Telluride. Check out our post here on the new flight schedules, airlines that fly into Telluride, nearby airports that also work great, and a few road trip recommendations for a longer but more scenic route into the box canyon.
Family-Friendly Telluride Hiking Trails
A Quick Jaunt ~ Fit For The Whole Family
1. Cornet Creek Falls Trail
A Short Jaunt ~ But Long On Presentation
We hesitate to even call this a proper hike, as it is only .5 miles, roundtrip. But this short jaunt is definitely long on presentation and is still one of the best Telluride trails around. Not only will you enjoy gorgeous summer views of the Telluride Ski Resort, after about a 10-minute walk you'll be greeted with a most misty finish: the spectacular, 80-foot Cornet Falls waterfall. Please note: the hike does require some scrambling on loose soil and rock for optimal viewing, so do wear sturdy shoes.

How to get there: Walk north on North Aspen Street in downtown Telluride until it dead ends, at which point you'll see the trail to reach Cornet Creek Falls. From here, it's only .25 miles to the spectacle.
2. Bridal Veil Falls
The Tallest
~ Free-Falling Falls
Come see the tallest free-falling falls in all of Colorado! The waterfall towers at 365 feet high, and entices visitors from all over the world to hike, bike, or four-wheel drive to visit them. Just 3.6 miles round trip to the top of the falls, the elevation gain is only 1,650 feet, and thus, suitable for all ages and abilities. This is an out-and-back trail, so you'll come down the same way you went up.

How to get there: From downtown Telluride, head east on Main Street until it becomes East Highway 145. Once you pass the Pandora Mill, look for a large parking area and begin the trail here.
3. San Miguel River Trail
A Daily Run ~ With A View
Follow the San Miguel River through the town of Telluride itself, while enjoying great canyon views and even learn about Telluride's vast mining heritage on posted signs along your path. Easily accessed and just 170 feet in elevation gain, be on the lookout for passing joggers who are out on their daily run with a view.

How to get there: Start the trail anywhere in downtown Telluride, and take it easy toward the box canyon. To make a longer trip out of it, you can connect with the Bridal Veil Falls trail just past the Pandora Mill.
Moderate Telluride Hiking Trails and Day Hikes
More Dedication ~ More Elevation
4. Hike to Blue Lake in Telluride
Take It ~ Up A Notch
Now we're really taking it up a notch. A 2,000-foot elevation gain to be exact. And is it ever beautiful along the way up. You'll be passing scenic wildflowers the whole way until you surpass the treeline at 12,400 feet! Be sure to be on the lookout for abandoned mini-cabins and antique equipment along your 5.7-mile roundtrip. Once you reach Blue Lake, take a rest to enjoy the stunning color of this high-elevation lake.

How to get there: Drive to the top of Bridal Veil Falls and park. From here, follow the trail toward Bridal Falls Basin and you'll reach Blue Lake in just under 3 miles.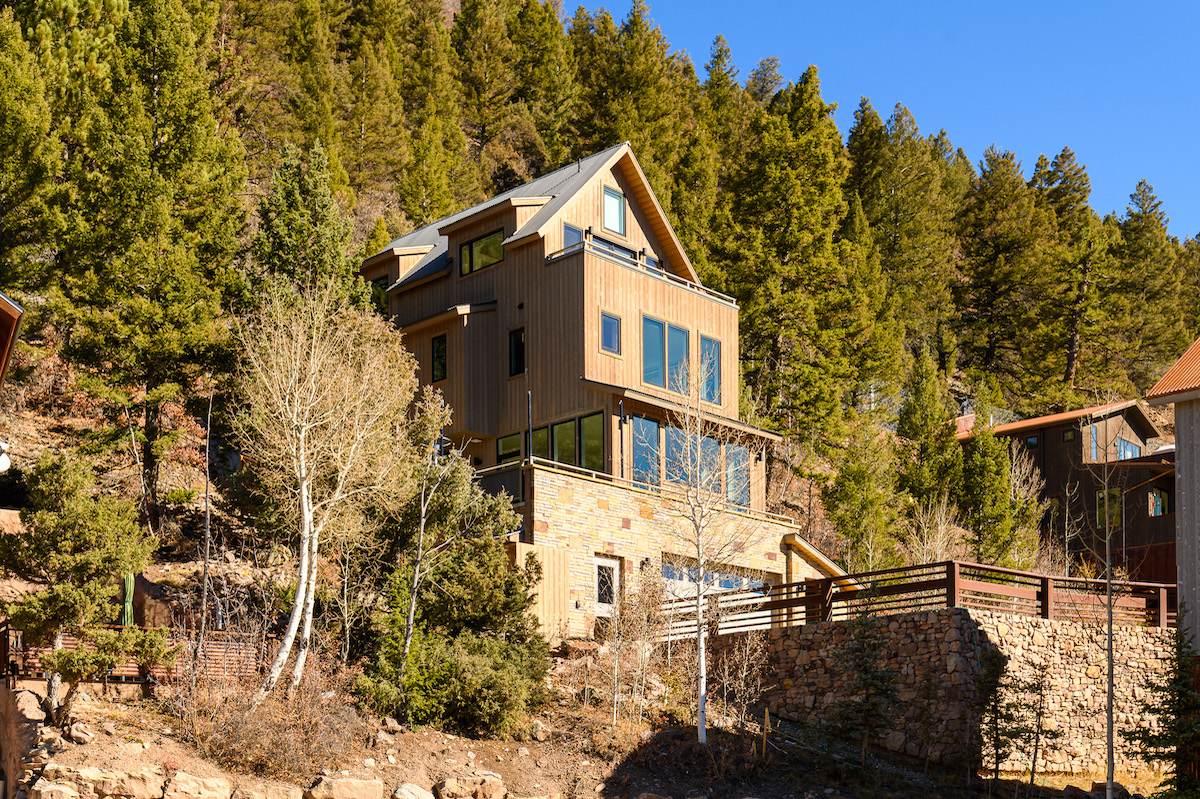 Want to Stay Near Telluride's Best Trails?
Check out Sunset Ridge Retreat
5. Hope Lake Hike Telluride
Nearly
~ 14,000 Feet High
While the trail itself is moderate with a 1,500-foot elevation gain, it is very high in altitude (nearly 14,000 feet) so please take note. Another trail for those seeking wildflowers in all their native glory, it's about a two-hour trek to the pristine, alpine lake, so do plan accordingly.

How to get there: From downtown, take Highway 145 west for about three miles. At the second roundabout, take Highway 145 South, and stay on this road until you reach County Road 63A after about 15 minutes. Turn left to go toward Trout Lake and stay on 63A for about 5 minutes until you reach Hope Lake Road. Turn left and stay on this rocky road (4x4 recommended) until you reach the trailhead, about 2.5 miles in.
6. Jud Wiebe Trail
A Moderate Trail ~ Right Outside Telluride Proper
Another moderate trail that can be accessed right from Telluride proper, this is a 3-mile loop that takes you lush aspen forests, sprawling fields and meadows, and wide-open sightlines of Telluride the entire way.

How to get there: Go north on North Aspen Street from downtown just as you would to get to Cornet Creek Falls. Instead of going straight, cross the bridge on the left and you'll see the well-marked trail.
Difficult Telluride Hiking Trails
Maximum Effort ~ Maxiumum Views
7. Liberty Bell Trail Telluride
Pass Historic ~ Mining Structures
That sound you hear is the Liberty Bell basin and mine calling your name. Along the way, you'll pass historic mining structures as you ascend the 2,500-foot elevation gain. And while this trail is certainly steeped in history, we must warn you it is literally steep as well. Be careful as you make the, at times, strenuous journey and always try to keep your eyes on what's ahead (which will include immaculate views of wildflowers and wildlife).

How to get there: From downtown, take North Oak Street north until it becomes Tomboy Road and veers right. Turn a hard left at the first road you come across (Liberty Bell Road), stay straight at the fork, and look for the trailhead marker.
8. Ballard Mountain Hike in Telluride
Worth Every
~ Droplet Of Sweat
Easily accessible with a beginning in Telluride, that's about the only thing easy on this 6.4-mile hike. But you'll quickly realize that the gorgeous views you'll enjoy are worth every droplet of sweat you surrender to this trail. Become completely immersed in the Colorado wilderness, as you experience maximum bliss because of the minimal amount of foot-traffic throughout this San Juan Mountain environment.

How to get there: From downtown, walk south on Pine St, cross the bridge, and look for signs for the Wasatch Trail. Take the trail, and after about 1 mile, you'll come across a clearing and an unmarked trail on your left. Follow this steep path to the peak of Ballard Mountain.
9. Wasatch Trail
7 Miles ~ Round Trip
This long, difficult hike is about 14 miles, round trip. Pack accordingly, because this one should take you the entire day. But is it ever worth it. Forming what is essentially a complete a loop around majestic Wasatch Mountain, you'll experience breathtaking views of waterfalls, wildflowers, and whatever else lies below.

How to get there: From downtown, walk south on Pine St., cross the bridge, and find the trailhead.
10. Telluride's Via Ferrata
Colorado's own
~ Iron Way
A combination of a technical climb and a ridgeline hike, the Via Ferrata is the international name for this type of protected climb. Make no mistake, this is for experienced climbers only, and if you aren't comfortable with climbing gear, guides are available to take you on this breathtaking journey.

Check out the video below from the Telluride Mountain Club, explaining just what it takes to conquer this famous Telluride trek.

How to get there: Head up Bridal Veil Falls road until you see the parking area. From here you'll see the access hiking trail to the Via Ferrata.
Important Tips for Hiking Telluride
For The ~ Best Time
Your level of preparedness is key. Whether you're just taking a leisurely stroll or going backpacking on a multi-day excursion along Telluride's 14'ers, plan ahead. Due to Telluride hiking trails' elevation levels, you'll always want to pack sunscreen and plenty of water. Read our in-depth guide on how to deal with Telluride's high elevation and altitude sickness to ensure you're ready for it. You'll definitely need a map and a few snacks. Bug spray never hurts. If it does, a prepacked first-aid kit can always help ease the pain. But once you've gathered all the necessary supplies, you now know the ideal Telluride's hiking trail waiting for you. Plan your trip using this interactive trail map.
Loading...